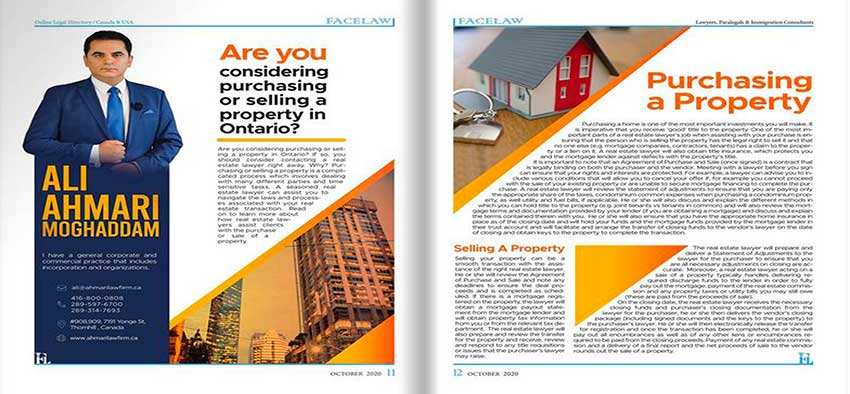 Are you considering purchasing or selling a property in Ontario? If so, you should consider contacting a real estate lawyer right away. Why? Purchasing or selling a property is a complicated process which involves dealing with many different parties and time sensitive tasks. A seasoned real estate lawyer can assist you to navigate the laws and processes associated with your real estate transaction. Read on to learn more about how real estate lawyers assist clients with the purchase or sale of a property.

Purchasing a Property
Purchasing a home is one of the most important investments you will make. It is imperative that you receive 'good' title to the property. One of the most important parts of a real estate lawyer's job when assisting with your purchase is ensuring that the person who is selling the property has the legal right to sell it and that no one else (e.g. mortgage companies, contractors, tenants) has a claim to the property or a lien on it. A real estate lawyer will also obtain title insurance, which protects you and the mortgage lender against defects with the property's title.
It is important to note that an Agreement of Purchase and Sale (once signed) is a contract that is legally binding on both the purchaser and the vendor. Meeting with a lawyer before you sign can ensure that your rights and interests are protected. For example, a lawyer can advise you to include various conditions that will allow you to cancel your offer if, for example you cannot proceed with the sale of your existing property or are unable to secure mortgage financing to complete the purchase. A real estate lawyer will review the statement of adjustments to ensure that you are paying only the appropriate share of the taxes, condominium common expenses when purchasing a condominium property, as well utility and fuel bills, if applicable. He or she will also discuss and explain the different methods in which you can hold title to the property (e.g. joint tenants vs tenants in common) and will also review the mortgage terms and documentation provided by your lender (if you are obtaining a mortgage) and discuss and explain the terms contained therein with you.  He or she will also ensure that you have the appropriate home insurance in place as of the closing date and will hold your funds and the mortgage funds provided by the mortgage lender in their trust account and will facilitate and arrange the transfer of closing funds to the vendor's lawyer on the date of closing and obtain keys to the property to complete the transaction.

Selling A Property
Selling your property can be a smooth transaction with the assistance of the right real estate lawyer. He or she will review the Agreement of Purchase and Sale and note any deadlines to ensure the deal proceeds and is completed as scheduled. If there is a mortgage registered on the property, the lawyer will obtain a mortgage payout statement from the mortgage lender and will obtain property tax information from you or from the relevant tax department.  The real estate lawyer will also prepare and review the transfer for the property and receive, review and respond to any title requisitions or issues that the purchaser's lawyer may raise.
    The real estate lawyer will prepare and deliver a Statement of Adjustments to the lawyer for the purchaser to ensure that you are all necessary adjustments on closing are accurate.  Moreover, a real estate lawyer acting on a sale of a property typically handles delivering required discharge funds to the lender in order to fully pay out the mortgage, payment of the real estate commission and any property taxes or utility bills you may still owe (these are paid from the proceeds of sale).
On the closing date, the real estate lawyer receives the necessary closing funds and purchaser's closing documentation from the lawyer for the purchaser, he or she then delivers the vendor's closing package (including signed documents and the keys to the property) to the purchaser's lawyer. He or she will then electronically release the transfer for registration and once the transaction has been completed, he or she will pay out all encumbrances as well as of any other liens or encumbrances required to be paid from the closing proceeds. Payment of any real estate commission and a delivery of a final report and the net proceeds of sale to the vendor rounds out the sale of a property.
 
Ontario Real Estate Lawyers: Recommendations

First, find a house in Ontario in your price range. Second, sign an offer that protects you and that is acceptable to the vendor. Third, close the purchase and move in.
We recommend that you get well informed about the process and surround yourself with an experienced team, including a competent real estate lawyer, who can deal with all of the issues and problems that may arise in the process of purchasing or selling a property.
The following are some prudent tips to follow:
1.    Get informed. Canada Mortgage and Housing Corporation ("CMHC") has a guide for new real estate buyers called Homebuying Step-by-Step: A Consumer Guide and Workbook which can be found here:
https://www.cmhc-schl.gc.ca/en/buying/homebuying-in-canada-a-step-by-step-guide
2.    Retain an informed and experienced Real Estate Agent who will assist you in finding a property in the right location and at the right price for you.
3.    Retain a competent Mortgage Broker who will assist you in obtaining a favourable mortgage rate and term. They can pre-qualify you for a mortgage so you will know how much you can afford while looking for the right property.
4.    Retain a Home Inspector with a good reputation who will inspect the home you wish to buy and provide you with a report of any defects, difficulties or problems revealed through the inspection.
5.    Retain an experienced and knowledgeable real estate lawyer. Know that lawyers are bound by professional rules that require them to act in your best interests. Therefore, retain a lawyer who has experience in this area of law and who can facilitate the real estate transaction. The lawyer will ensure that your rights are protected throughout the purchase or sale process.

Things to watch out for

Home buyers in Ontario should be aware of the following:
•    Caveat emptor or "Buyer Beware" is still the law in Ontario. Be sure to inspect the home you are planning to buy very carefully. Also insist on the vendor delivering a completed and signed Vendor Disclosure Statement before your offer to buy.
•    Provincial Land Transfer Tax ("LTT") is payable by the purchaser at the time of registration of the transfer for all properties in Ontario. The amount of LTT paid is based on a sliding scale as a percentage of the purchase price for the home. Properties purchased in the City of Toronto are also subject to a Municipal Land Transfer Tax in addition to the Provincial Land Transfer Tax.
•    In Ontario, agreements respecting the purchase and sale of land must be in writing, signed and witnessed to be enforceable. Be sure the written offer includes terms, conditions and warranties respecting everything that is important to you.

Fixtures and Chattels. Fixtures are items that are attached to the property, so that they effectively become a permanent part of said property. Fixtures typically require tools and hardware to remove. Chattels are items that are not attached to the property and can be simply picked up and walked away with without mess, damage, or any tools or procedures.   While the distinction seems clear, it is important to note that there is confusing case law on the issue, so "when in doubt, spell it out" in the contract. For example, a dishwasher may appear to be a fixture, but it may not be if can be simply unplugged and moved easily without causing damage, so stipulate in the Agreement that it is a fixture that is included in the purchase.

For more information Contact Ali Amari as a Persian lawyer in Toronto .
Real Estate Lawyer in Thornhill
Persian lawyer in Toronto
Persian lawyer in Thornhill
Real Estate Lawyer in Thornhill
Persian lawyer in Richmond hill
Henson Trust
Are you considering purchasing or selling
Non-Resident Speculation Tax