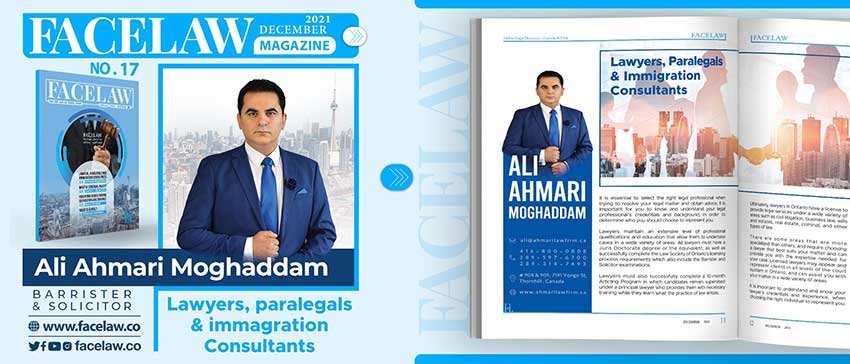 Lawyers, Paralegals and Immigration Consultants

It is essential to select the right legal professional when trying to resolve your legal matter and obtain advice. It is important for you to know and understand your legal professional's credentials and background, in order to determine who you should choose to represent you.

Lawyers maintain an extensive level of professional qualifications and education that allow them to undertake cases in a wide variety of areas. All lawyers must have a Juris Doctorate degree or the equivalent, as well as successfully complete the Law Society of Ontario's licensing process requirements which also include the Barrister and Solicitor examinations. Lawyers must also successfully complete a 10-month Articling Program in which candidates remain supervised under a principal lawyer who provides them with necessary training while they learn what the practice of law entails.  

Ultimately, lawyers in Ontario have a license to provide legal services under a wide variety of areas such as civil litigation, business law, wills and estates, real estate, criminal, and other types of law. There are some areas that are more specialized than others, and require choosing a lawyer that best suits your matter and can provide you with the expertise needed for your case. Licensed lawyers may appear and represent clients in all levels of the court system in Ontario, and can assist you with your matter in a wide variety of areas. It is important to understand and know your lawyer's credentials and experience, when choosing the right individual to represent you.

Paralegals are also regulated by the Law Society of Ontario and are limited in their scope of practice. Paralegals obtain their paralegal license by successfully completing the Paralegal Licensing Process which includes the Licensing Examinations. Paralegals can only take on cases at the Small Claims Court level which has jurisdiction over monetary claims up to a maximum of $35,000. Paralegals are also allowed to assist in cases involving the Highway Traffic Act and appear in front of tribunals such as the Landlord and Tenant Board or the Workplace Safety and Insurance Board. They are also able to represent you with certain summary conviction criminal charges under a Criminal Code proceeding in the Ontario Court of Justice. With these types of matters, it may be appropriate to obtain the services of a paralegal.

It is essential that you retain legal services from someone who is licensed by the Law Society of Ontario. There are some exemptions for people who are excluded from the regulations of the Law Society of Ontario, for example immigration consultants. Immigration consultants are regulated by the Immigration Consultants of Canada Regulatory Council (ICCRC). Immigration consultants are designated as Regulated Canadian Immigration Consultants (RCICs) and are required to have knowledge about Canadian immigration and refugee law, must meet a language test standard in either English or French, complete a post-secondary accredited program, and pass the ICCRC exam. There are also Regulated International Student Immigration Advisors (RISIAs), which are also regulated by the ICCRC. The role of immigration consultants is to assess client information and to determine the likelihood of approval for their designated visa. Additionally, immigration consultants assist clients and prepare them for their visa interviews along with helping them with their applications and submission. On the other hand, immigration lawyers can represent you during an immigration interview, and can advocate for your application if you need to be represented in various levels of court and if your case reaches judicial review.

It is important to be mindful of these differences the next time you decide to seek legal representation, in order to ensure which legal professional is right for you and your legal matter. It is essential to understand their area of expertise, their credentials, and background, to confirm you are making the right decision for your matter.

 
Persian lawyer in Toronto
Persian lawyer in Thornhill