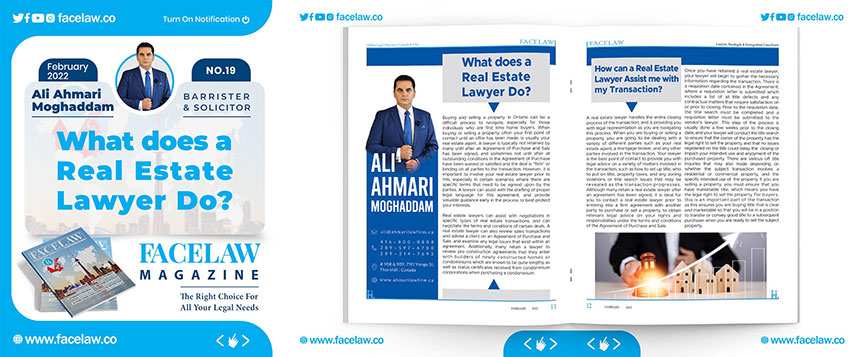 Buying and selling a property in Ontario can be a difficult process to navigate, especially for those individuals who are first time home buyers. When buying or selling a property, often your first point of contact until an offer has been made, is usually your real estate agent. A lawyer is typically not retained by many until after an Agreement of Purchase and Sale has been signed, and sometimes not until after all outstanding conditions in the Agreement of Purchase have been waived or satisfied and the deal is "firm" or binding on all parties to the transaction. However, it is important to involve your real estate lawyer prior to this, especially in certain scenarios where there are specific terms that need to be agreed upon by the parties. A lawyer can assist with the drafting of proper legal language for this agreement, and provide valuable guidance early in the process to best protect your interests.

Real estate lawyers can assist with negotiations in specific types of real estate transactions, and can negotiate the terms and conditions of certain deals. A real estate lawyer can also review sales transactions and advise a client on an Agreement of Purchase and Sale, and examine any legal issues that exist within an agreement. Additionally, many retain a lawyer to review pre-construction agreements that they enter with builders of newly constructed homes or condominiums which are known to be quite lengthy, as well as status certificates received from condominium corporations when purchasing a condominium.

How can a Real Estate Lawyer Assist me with my Transaction?

A real estate lawyer handles the entire closing process of the transaction, and is providing you with legal representation as you are navigating this process. When you are buying or selling a property, you are going to be dealing with a variety of different parties such as your real estate agent, a mortgage broker, and any other parties involved in the transaction. Your lawyer is the best point of contact to provide you with legal advice on a variety of matters involved in the transaction, such as how to set up title, who to put on title, property taxes, and any zoning violations or title search issues that may be revealed as the transaction progresses. Although many retain a real estate lawyer after an agreement has been signed, it is ideal for you to contact a real estate lawyer prior to entering into a firm agreement with another party to purchase or sell a property, to obtain relevant legal advice on your rights and responsibilities under the terms and conditions of the Agreement of Purchase and Sale.

Once you have retained a real estate lawyer, your lawyer will begin to gather the necessary information regarding the transaction. There is a requisition date contained in the Agreement, where a requisition letter is submitted which includes a list of all title defects and any contractual matters that require satisfaction on or prior to closing. Prior to the requisition date, the title search must be completed and a requisition letter must be submitted to the vendor's lawyer . This step of the process is usually done a few weeks prior to the closing date, and your lawyer will conduct the title search to ensure that the owner of the property has the legal right to sell the property, and that no issues registered on the title could delay the  closing or impact your intended use and enjoyment of the purchased property. There are various off-title inquiries that may also made depending on whether the subject transaction involves  a residential or commercial property , and the specific intended use of  the property. If you are selling a property, you must ensure that you have marketable title, which means you have the legal right to sell the property. For buyers, this is an important part of the transaction as this ensures you are buying title that is clear and marketable so that you will be in a position to transfer or convey good title to a subsequent purchaser when you are ready to sell the subject property.
Title insurance is also set up by your real estate lawyer, which is also a crucial part of the transaction. Title insurance is not mandatory in the province of Ontario; however, it is often required by many lenders when providing mortgage financing for purchase transactions. Title insurance is an insurance policy that protects property owners and their lenders against any losses that arise from the property's title or ownership. This is something that should be discussed with your lawyer to understand the various types of protection you can receive from title insurance. However, it is important to note that title insurance is not a replacement for legal advice.


What does Title Insurance Cover?

It is important to note that there are numerous title insurance providers offering title insurance in Ontario, and while these policies may contain minor differences between providers, for a onetime fee, referred to as a premium, a title insurance policy typically provides protection to purchasers from the following types of title issues or losses:

Your title insurance policy can protect you from losses arising from the following title issues:
 
Unknown title defects (title issues that prevent you from having clear ownership of the property);

Any existing liens against the property's title (usually as a result of a previous owners unpaid debts, such as unpaid property taxes);

Encroachment or property boundary issues;

Title fraud and mortgage fraud occurring after closing;

Errors contain in registered surveys, plans, documents as well as errors contained in the information available in public records which you may have relied upon; errors; and

Unknown title defects that prevent you from having clear ownership of the property

Benefits of Hiring a Real Estate Lawyer

On the closing day, title to the property (registered ownership) is officially transferred to the buyer and is a significant point in the transaction process. Your real estate lawyer facilitates the financial element of the transaction by receiving money from lenders and depositing funds into their trust account, making and reviewing necessary adjustments for closing (realty tax adjustments for example), and any other costs and fees associated with the transaction.  Your lawyer will also provide you with the final amount of money required the on the closing day in order to complete the purchase transaction. Your real estate lawyer also ensures all closing documents have been signed and exchanged between the parties, while also explaining to you what the implications of the closing documents  and the legal ramifications for you.