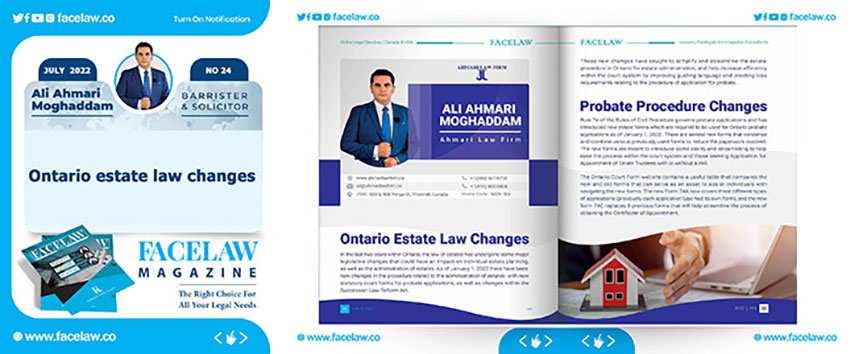 Ontario Estate Law Changes
In the last two years within Ontario, the law of estates has undergone some major legislative changes that could have an impact on individual estate planning, as well as the administration of estates. As of January 1, 2022, there have been new changes in the procedure related to the administration of estates  with new statutory court forms for probate applications, as well as changes within the Succession Law Reform Act. Recent amendments to the Courts of Justice Act have created and implemented new court forms within the Rules of Civil Procedure for probate applications. These new changes have sought to simplify and streamline the estate procedure in Ontario for estate administration, and help increase efficiency within the court system by improving guiding language and creating less requirements relating to the procedure of application for probate. 
Probate Procedure Changes
Rule 74 of the Rules of Civil Procedure governs probate applications and has introduced new estate forms which are required to be used for Ontario probate applications as of January 1, 2022. There are several new forms that condense and combine various previously used forms to in hopes of reducing the paperwork involved. The new forms are meant to introduce some clarity and streamlining to help ease the process within the court system and those seeking Application for Appointment of Estate Trustees with or without a Will. The Ontario Court Form website contains a useful table that compares the new and old forms that can serve as an asset to assist individuals with navigating the new forms. The new Form 74A now covers three different types of applications (previously each application type had its own form), and the new form 74C replaces 9 previous forms that will help streamline the process of obtaining the Certificate of Appointment. Ultimately, the goal of revising and creating new estate court forms is to simplify the estate application procedure in Ontario for estate trustees, other professionals involved, and members of the public who are involved in the application for Certificate of Appointment. 
Changes to the Succession Law Reform Act
The estate law changes passed by Bill 245 (the Accelerating Access to Justice Act), in April 2021, also corresponded with the new form changes implemented in early 2022. With the new changes in place, it is important to review your estate plan and ensure your documents are up to date, and in accordance with your wishes and estate needs. Below is a brief list of some of the following important estate law changes that may potentially have an impact on your estate plans:
Marriage will no longer cause an automatic revocation of a previous will.

A divorced spouse is not entitled to any portion of their former spouse's estate, unless their Will states otherwise.

If a Will has not been properly executed, the Court may order that the document be valid and effective as if it had been properly executed.

Remote witnessing of a documents now permitted for the execution of wills and powers of attorney, permanently, provided certain conditions are met.
These significant legislative changes can potentially cause headaches and issues for individuals who are planning their estate and going through life changes, such as marriage or divorce.  Furthermore, those individuals who have previously prepared wills before the above legislative changes took place, and have since experiences major life changes should take time to review and revise their estate planning documents accordingly to ensure that their testamentary wishes will be followed. It is important to speak and consult with a lawyer who can help you plan for these life changes as well as being up to date  with the recent changes in the law. It is best to navigate these changes with a legal professional well versed with Ontario estate law, and the recent changes thereto.
Contact Ahmari Law Firm for Advice on Probate Matters
It is imperative that you review your estate plan with a legal professional to ensure your plan is kept up to date and in accordance with the recent legislative changes in estate law. 
key3
Persian lawyer in Toronto
Persian lawyer in Thornhill